Italian Royal Blue
Our Blue Italian Collection is taken from a 200 year old Spode Blue Italian pottery design which is reproduced in tin. When cut and made into jewellery this vintage design looks fresh and contemporary.
Rectangle shaped earrings in our Italian Blue print with Swarovski crystal detail.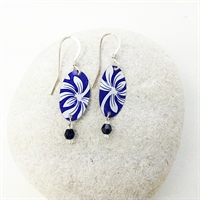 Vintage style oval earrings handmade from our collection of biscuit, sweet and toffee tins.