LXV Brass and Sterling Silver
The pieces in this collection come in a choice of either a leaf imprint finish or a hammered finish.
Each piece is individually hand cut and textured using a real individual leaf or by using a hammer. This traditional craft creates a unique timeless treasure. Made from brass remnants traditionally 65% copper and 35% zinc. Sterling Silver chains and findings.
Brass will naturally develop a patina over time and if required can easily be restored to its original shiny appearance by rubbing gently with a soft cloth and some lemon juice or by using a silver cloth.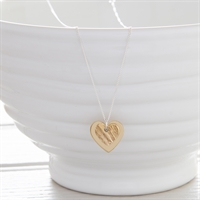 A small double heart necklace made from upcycled brass with a hammered finish