Stellar Stars & Moons
A constellation of beautiful stars and moons: pendants and earrings made from upcycled tins and aluminium remnants finished with twinkling Swarovski crystals.
Brushed luminous silver and gold and matt velvety black are combined with rich amethyst starbursts and geometric patterns reflecting the deep Midwinter night sky. The addition of Swarovski crystals to some pieces add a touch of sparkle to our new Stellar collection.
Perfect for gifting or an addition to your jewellery rotation.
All our findings and chains are sterling silver from British suppliers. Your jewellery will be made to match as closely as possible to the photographs, but as all our jewellery is handmade and from upcycled tins, please allow for slight variations in design.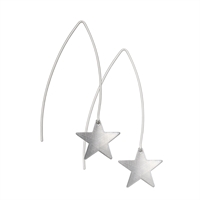 Star earrings on long earwires, handmade from upcycled eco aluminium.