Would You Like to Sell Our Jewellery?
We have been making and selling jewellery from lovely vintage and modern tins since 2004, and we now supply over 460 stockists across the UK and abroad. You can read our Testimonials pages to see what our trade and retail customers have to say about our jewellery and our commitment to providing excellent customer service.
As a stockist of Kate Hamilton-Hunter Studio jewellery, we will support you by listing you on our Find A Stockist page. We provide you with a Point Of Sale book and stand, recycled gift boxes, display boxes and information cards free of charge with each piece of jewellery.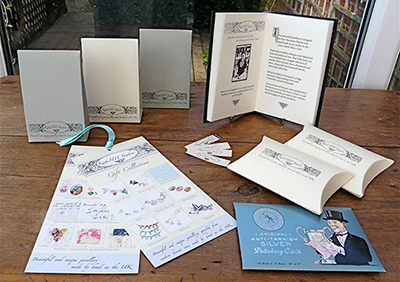 Trade Enquires:
If you are interested in selling our jewellery, please fill out the form on our Registration page. Once we have approved your application according to our Exclusivity Policy we will send you an email to confirm that your trade account has been activated. Please allow a few days for us to process your application. If you have any questions or any problems filling in the form, please e-mail anna@katehh.co.uk or phone us on 01745 826500.
Delivery & Accounts:
Our minimum order is £150 net. Carriage is by Royal Mail Special Delivery and is £9.50 within the UK. Orders over £300 net are Carriage Paid. We operate new customers on a proforma basis. If you would like to open an account with us we ask for two trade credit references.
Internet Sales
We do not supply trade customers intending to sell our products on Ebay (or other auction-style websites) or Amazon as we feel that the discounting on these sites is not to the benefit to our other accounts or to the perceived value of our goods. We also do not supply to trade customers intending to list our regular products on NotOnTheHighStreet.com.
A Note About Exclusivity
We have drafted up our own terms and conditions for exclusivity for our stockists. To read our Exclusivity Policy please click here.
Overseas Trade Customers
Please be aware that we do not have International Shipping Charges set up on our website yet so if you place an order, please tick the box to pay by cheque and we'll e-mail you a pro-forma invoice with the correct carriage.